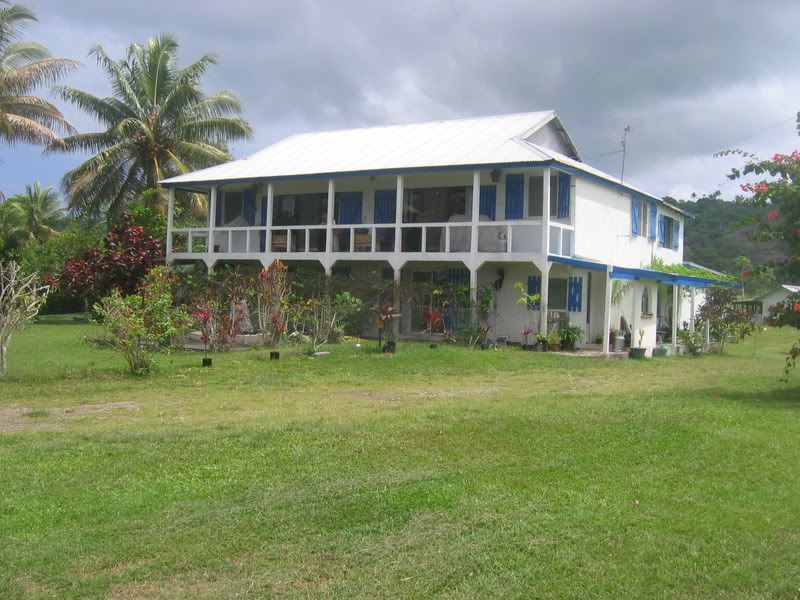 This is the house I've been staying at while in Efate. The village is called Mele, and the Ni-Van section is across the street and is quite massive. The ocean is a stones through off the left side of the photo. Now before you go thinking I'm living it up in some luxurious plantation-style home I would have to correct you a bit. First of all, there are three large dogs that I'm caring for, one of which is most definitely retarded (in a lovable, but dangerous-to-herself kind of way) and she's a puppy to boot. As for the house, it was built in 1901 and according to Terry it's the first "house" in Vanuatu (all the other Ni-Van abodes apparently not qualifying for that title). The original upper floor is just one large living area - very open and breezy with two large sliding glass doors and full of hand-painted wall tapestries. Only two bedrooms and a bathroom downstairs. The previous owner built a massive addition to the back of the house, but it's unfinished except for the upper level which has been made into a kitchen.

Terry, as owner of Tanna Coffee - the roasting, packaging and wholesaling business - is by no means a wealthy man as some might have expected. In fact, he and his lovely little wife live a very modest life. While the house is large and roomy and the front balcony is amazing, the amenities are basic at best. Hot water is hard to come by except in the shower where it works in spurts. The TV gets 20 channels, but only 3 of which are worth watching - although I use the word "worth" VERY generously here. I'm not complaining, but asian (australian?) satellite TV is pretty bad. Thank god they have BBC and National Geographic channel. The thing I was most looking forward to - unfettered and "high"speed internet access - is not happening here. Apparently Terry only has a 5-hour per month dial-up connection and his monitor has a habit of going green after several minutes. This means traveling to the PC office to use our computers. Not a terrible thing, just not what I was looking forward to. And since the house is outside of town I have to be careful how long I stick around in the evening so that I don't miss the last bus home.

On the other hand I have a kitchen with no tourists, a ping-pong table where I kick Kael's ass every day, a large proper mattress, a full-size shower, and I can watch TV (regardless of the quality) sitting on a fluffy sofa while eating my dinner. And best of all - no cackling chickens or crying babies, although I still do have barking dogs.

So I'll be here until the 20th and then I'll be back in a guesthouse (traveler's motel) until the last week of January. Then it's back to Tanna where I'll most definitely miss living in Terry's house.