Faithful readers - I've not been able to post to the blog in so long due to a very busy schedule. This past month we celebrated our one-year anniversary in country (although our halfway point of our contract is not until July) and now the entire Vanuatu Peace Corps is convening for our annual conference in Vila. We will be here for a week in a private island resort located near downtown. This will be a very interesting experience since many of us will be meeting for the first time. We have about 90

PCV's

in Vanuatu and I've probably met about half. It will be great to hear stories from all the different islands that I'll likely never get a chance to visit.
After the conference I will be traveling to Sydney for one week - my 36th birthday present to myself. In Sydney I will

rendezvous

with Robert from San Diego who will then return to Vanuatu with me for an additional 10 days. This will be an incredible experience not just for him, but for me as well - to get to play

Tanna

tour guide to another American will be very validating. Most volunteers experience frustration after service when they realize that no one back home can ever really truly understand what all the stories mean for that person. There's a lot more going on that can never make it onto a blog or into a photograph. So having even one person that understand even some of this crazy place with first-hand experience will be pretty awesome. At the very least I need one other person to taste

Kava

, and to eat

Tanna

soup while sitting on the dirt floor or Dora's kitchen while fighting off a pack of starving dogs.
I have some good stories to share - namely my experiences with the cargo cult named "John

Frum

". In short, they worship the American military and spend

their

days awaiting our return when we will shower them with cargo to enrich

their

lives. As if. I got to watch some of their 50

th

anniversary ceremony and even presented the chief, I mean.. the "Admiral", with a gift for which I earned myself a commemorative t-shirt and some seriously suspicious glares. Then we ditched out to swim in the hot springs at the base of the

volcano

.
Then I've got a couple stories from life on the "Field Survey" trail. We've been engrossed in a massive survey from every area of the island. We are examining each coffee farmers plot of trees and compiling a ton of data. guess who does all the compiling? It's been hard work, physically and emotionally, but Matt and I have been having a good time (mostly) seeing all the different villages from all corners of

Tanna

.
My camera broke which I'm hoping to get repaired in Sydney. But luckily I have photos to share from John

Frum

and a few from the survey. For now I will leave you with this...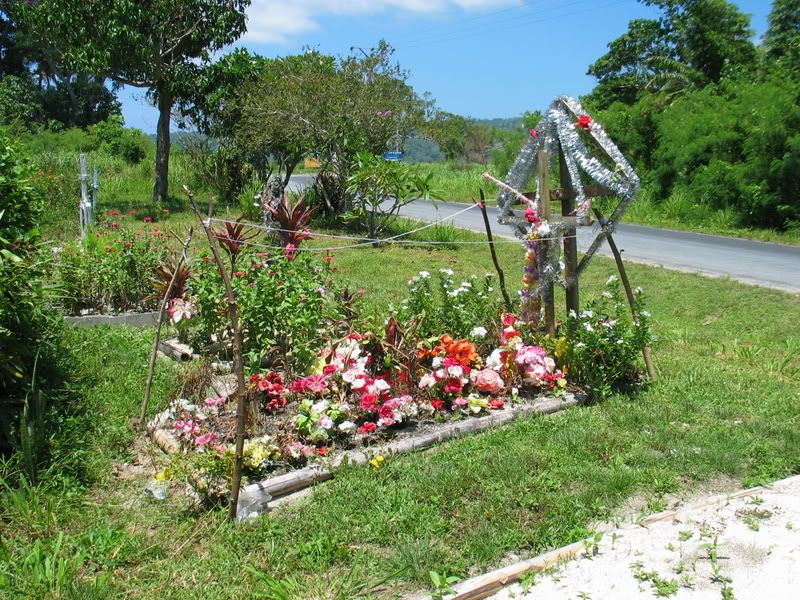 This is a grave in Mele, just outside the main city of Port Vila. When I stayed in Mele during the holidays flew past this grave day after day in a speeding mini-bus and always marveled that it was always covered in fresh vibrant flowers. It wasn't until I had to walk one day that I realized all the flowers were plastic. How did I not guess that before. I've never even seen these kinds of fresh flowers in Vanuatu before. And the shiny, silvery christmas garland is a special touch on many graves.