...IN MY NEIGHBORHOOD.


aka The Crypt Keeper. I've never NOT seen Charley in the act of either rolling or smoking tobacco. And for the first 5 months I only ever found him sitting in his

sp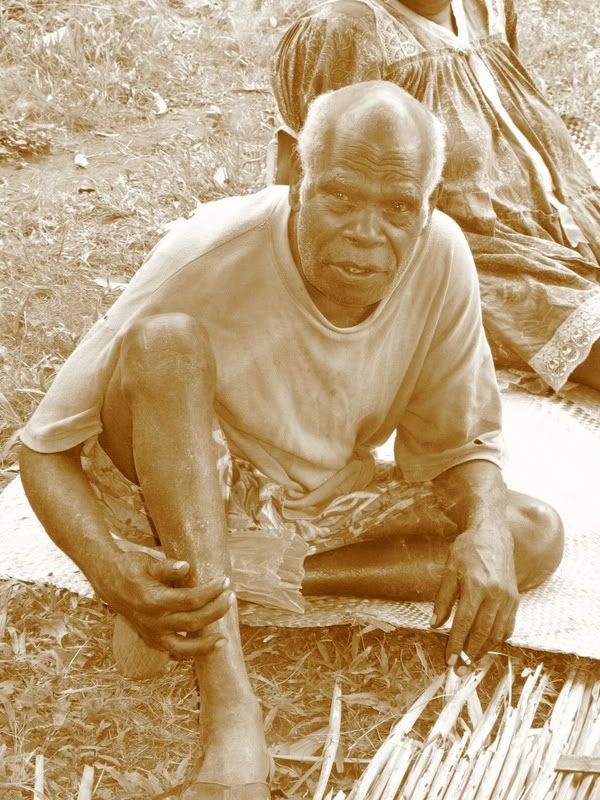 ot

wherever he was, always with a bush knife in hand, and always randomly hacking at the ground. It was a shock to me to one day seem him walking down the road - I didn't know he could. And then there was the time he decided to wear coke-bottle glasses. Presumably he needs them to see so it calls naturally calls into question every time he's not wearing them, while randomly swinging his knife. I rarely talk to him, since it's mostly unintelligible grunts and such. He can often been seen using hand language to simulate masturbation as a way of being smug - exactly the way some punk teenager might use the same hand language to say "fuck off". Yet when

Charley

does it I get a strange uncomfortableness. But I was sparred the true horror that poor Matt had to endure one day when he was standing in front of Charley while Charley, sitting on the ground wearing only a skirt of fabric, rolled backwards and totally exposed himself. Matt, feeling traumatized and a bit nauseous, ran to the factory office to share the experience so we could both feel sick together. The best part is that Charley looked at Matt and just laughed at him as he ran off.
A sweet little girl, the daughter of a good friend and staff member of the bungalows where I'm
staying. I don't have much to say about her, except that I really like this photo for it's deception. You can practically hear her crying: "for just the price of a cup of coffee you can feed me for one week". This photo looks so sad, pathetic and hopeless. All completely the opposite of what is actually going on. Her face is dirty, it's true, but it's from the joyous feasting on fresh and abundant mangoes. There is just no way to eat a mango without making a mess. And for me the worst part is the pulp getting all stuck in my bottom teeth. Behind her, on the ground, are palm fronds waiting to be crafted into the roof of a new house. The village mamma's had all been on hand to help in the construction of the new home and had just recently taken a mango break when I appeared to take the picture. She ran over to me hoping to get a peak at the camera, but when I pulled back in order to get her in the frame she was disappointed and quickly put her hands behind her back as if I had just reprimanded her. In the very next instant she was all smiles and rubbing her messy little hands all over my camera when I tried to show her the picture that you now see. In the background, behind her right ear, you can see a woman laying down on a

matt

. I think that's her grandmother taking a break, just chilling in the afternoon sun. It wasn't too hot that day.
Nimisa

&

Josep
The twins. In fact,

Lowkatai

is filled with twin boys. The village isn't really a big place, and yet there are no less than 6 sets of male twins in a quarter mile radius... that I know of so far. Did I mention that

Nimisa

&

Josep

have twin brothers? Danny & Abel. They also have three other siblings for a total of seven. Danny has been raised since birth by

Kamut

, my counterpart. So

Nimisa

(on the left) is the silly, goofy, moronic one with the soft, likable face.

Josep

got the darker, harsher
features which is fitting since he's the "

stronghead"

, fighter-type who is always getting into trouble. Not unsurprisingly I found

Josep

to be a bit threatening when I first came to site. I seriously thought he was going to be a problem for me. Turns out he's really just a pussy like the rest of them and he was just testing me. Before he even knew anything about me he was making really strange sexual come-

ons

. Clearly he didn't know who he was dealing with. Once I finally got sick of his

inappropriately

-timed bullshit I sent the test right back at him. One day when he was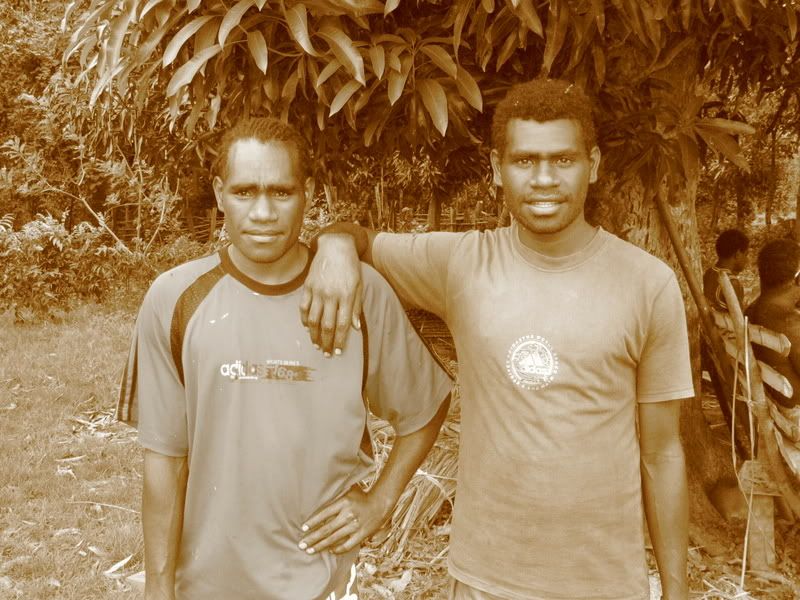 repeatedly making innuendos towards me (in a tough-guy kind of way) I cornered him against a wall and put my nose right up next to his nose and told him to kiss me if he wanted to kiss me (for the record I have zero attraction to him). He didn't flinch, but didn't know what to do or say. I finally stepped back and laughed at him, called him some degrading names, and then walked away. The next day he came to my bungalow and talked to me about how we were such good friends and didn't I want to be his friend? and blah blah blah. He never made any more sex jokes after that. I think I confused him real good. So we had a rocky start. In fact, I started out liking

Nimisa

much more. He seemed like the kinder-gentler

Josep

. As time went on, though, I decided that

Nimisa

was far too dumb for words and

Josep

was actually a really good guy in need of some direction. They are 20 or 21 and only went to year 4 in school (which means basically kindergarten). Since that first month there have been many times when

Josep

proved himself to be a good friend not the least of which was the night of the famed

Toka

dance (a post for another time) when he had to steady my drunk and wobbly ass up a long dirt hill in the dark. When we both stopped for a piss I rolled backwards down the hill with my pants at my knees. Oh those where the times! Thank god for

Josep's

good nature and discretion when he helped me get my shit together when everyone else took off - including Matt and

Kamut

! Those bastards!. So

Josep

sometimes works as a cook at the bungalows, but mostly is a bundle of

un

-tapped energy - the sad story of most Ni-Van youth. He's far too smart for his own good (idle hands are the devils plaything) where

Nimisa

is just the opposite (ignorance is bliss).

Nimisa

, as indicated, is good for almost nothing - however he did participate in the Provincial Games (a mini-

olympics

between all the islands of Vanuatu) as a runner. And they both will do anything for me. Fetch mangoes for example. If I put in a request in the morning a bucket-full will arrive before lunch.
The Lao Family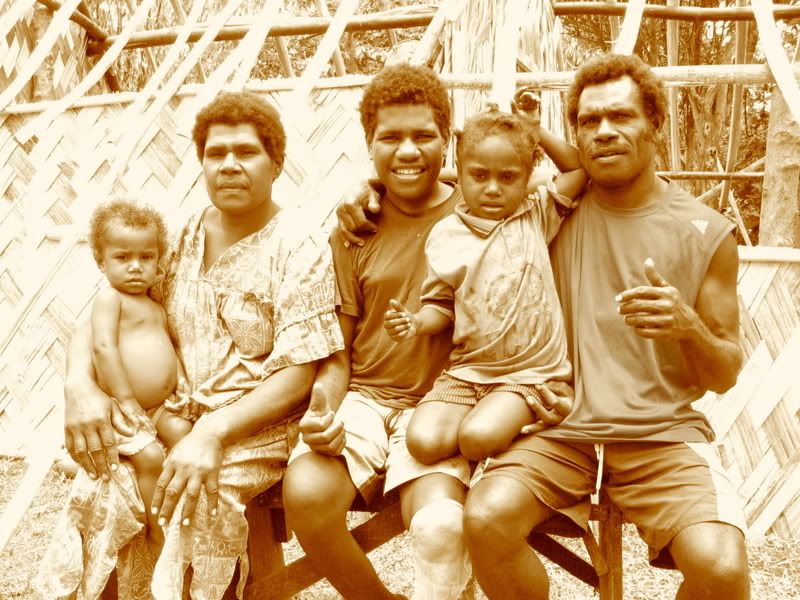 L to R we have

Felina

(1.5), Dora, Danny (12), Selina (5), and

Kamut

. Dora and

Kamut

have been married for about 14 years, but none of the children are theirs. After trying unsuccessfully for a child for about 2 years one of

Kamuts

brothers, upon the arrival of his second set of twins, gave Danny to

Kamut

and Dora for them to raise as

thier

own. I'm sketchy about the origins of Selina, but

Felina

, the youngest, came as part of a marriage swap. Dora has an adult child, named Nora, from a previous husband (again, sketchy details). When another man wanted to marry Nora they agreed that the wife price would be their first born. Normally there would be a large swapping of pigs, fowls,

kava

, mats, and food, as well as maybe some money, but in this case

Kamut

wanted and needed another child. This worked out well for everyone since they all end up helping each other anyway. It truly does take a village in this place. Now Nora and her husband

Poita

(a good friend of both Matt and I) have just had a second child and were troubled about what to name the child.

Poita

, wanting to be

everyone's

best friend, claimed the child would be named Brett. But at different times he was also to be named Matt, Jeff, or Danny depending on who he was wanting to impress that day. In the end the child is Danny

Kaltoro

-

Kaltoro

being my custom name. But I digress. Danny is the boy with the massive sores on his leg. The Peace Corps doctor thinks it's a form of

elephantitius

(

sp

?) and that he will have to live with this condition (open, oozing sores) for the rest of his life.

Felina

use to cry each time I walked towards her (scary white man!) but now will fall asleep in my arms if I bounce around just right. Selina pays me little attention except when I have candy. Dora cooks me

Tanna

soup nearly every night - she makes a special vegetarian pot just for me and it's always far FAR more than I can ever hope to eat in one sitting. I bring her vegetables and buy them things like salt and spices that they might not normally use. And

Kamut

is the guy I spend the most of my time with. He works at the factory with me. In the background is a half-built custom house they were constructing in the hopes that Jeff would be extending his contract again. Turns out he is extending but will be stationed in Vila. This means that this will probably be my house when I return to

Tanna

- NOT what I want since it's super close to all the other houses in his station. My official house still has not yet been started. ho hum.